2017 Upper Cumberland Superhero Heart Run
Event Details
Select a media type above to begin uploading photos and videos
Get ready, Tennessee! Mended Little Hearts of Upper Cumberland and Heart Heroes, Inc. present the 2nd Annual Superhero Heart Run at the Intramural Fields at Tennessee Tech University! On Saturday, June 24, 2017, the Upper Cumberland area will be suiting up in superhero gear and capes for the most highly-visible event that has ever existed for Congenital Heart Defect Awareness!
Proceeds raised from this event will be utilized to provide support, education, research and create awareness for CHD, the most common birth defect worldwide. Families in Tennessee will benefit directly through the programs and services provided by Mended Little Hearts and Heart Heroes, Inc.
Event Information
Adults: $25 ♥︎ Children (2 - 12): $10 ♥︎ Heart Heroes (those with CHD): FREE! (Online pricing through 6/22/17. Walk-up registration available day-of event.)
- All paid, online registrants will receive a commemorative Superhero Heart Run Cape (capes will be provided for walk-up registrants as available). Capes are distributed at the event. One free race bag is distributed per family as available.
- Heart Heroes (those with CHD) are always free; however they do need to register.
- Heart Heroes are encouraged to wear their custom Heart Hero Cape to the run so we can distinguish our honored guests! Click here to request a Heart Hero Cape – please enter the code "SHHR" into the Organization Code field so we can get your cape ordered and shipped in time for the run!
- Please note, commemorative run capes are only provided for paid registrations and are provided during check-in at the event.
- Make sure you create or join a fundraising team. We need your help to "Save the Day for CHD" and reach our fundraising goal!
Venue Info & Schedule
8:30am: Walk-up Registration & Check-in ♥︎ 8:30-noon: Family Activities ♥︎ 9:30am: 5k/2k Start
Intramural Fields at Tennessee Tech University - 1 William L Jones Dr, Cookeville, TN 38505 
Fundraise
Upper Cumberland 2017 Fundraising Goal - $20,000 You Have the Power to Save the Day for Congenital Heart Defects!
Help us achieve our fundraising goal! Visit our Fundraising Page for info and tools to help you kickstart your fundraising efforts!
Sponsor
Sponsor opportunities found on our Sponsor Page!
Merchandise

Exclusive Superhero Heart Run T-shirts:  Now, you can show your support for CHD Awareness year-round (unless you wear your superhero cape all year long - which is cool, too). Youth (XS-L) and Adult (S-2XL) sizes available and can be yours with a minimum donation of $15-$22!  Order yours here today - you can choose size and quantity and add them to your cart. We'll only have a very limited number available at the event, so we recommend you order yours TODAY!
Get One, Give One Mini Superhero Capes: Now your favorite Bummer Bear, American Girl or stuffed buddies can be a superhero, too, with their very own cape!  When you donate $10 for a mini superhero cape, you'll get one to keep & we'll donate one to your local MLH Bravery Bag program! 
---
We Thank Our Sponsors for Supporting the
2nd Annual Superhero Heart Run - Upper Cumberland!
~ Superhero Sponsor ~

  Mended Little Hearts has a mission to empower CHD families in local communities and nationally. In addition to local support meetings and family events, the Upper Cumberland MLH chapter provides Bravery Bags each month to Monroe Carrel Jr. Children's Hospital at Vanderbilt and Le Bonheur Children's Hospital in Memphis, to help families with comfort items & toiletries during a hospital stay. Learn more about MLH at www.mendedlittlehearts.org.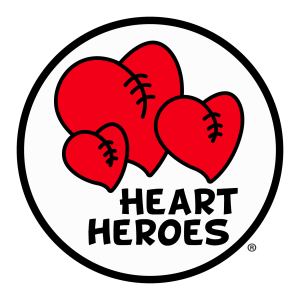 Heart Heroes, Inc. is a 501(c)3 non-profit organization dedicated to providing support to children and families affected by Congenital Heart Defects (CHD) through the distribution of superhero capes, programs to offer hope, and funding for CHD research. Please visit our website for more information  at www.heartheroes.org.
Fundraisers